Majority of Americans Believe the War Is Not Worth the Costs
The Taliban launched a series of attacks yesterday on embassies and the Afghan Parliament in Kabul. The offensive is reportedly "among the most audacious coordinated terrorist attacks here in recent years," yet US officials say they are determined to stay the course. The American public is less confident, however.
In fact, public support for the war in Afghanistan is at an all-time low. According to a recent Washington Post poll, 66% of respondents say the war has not been worth the costs, compared to only 30% who say it has. This represents a significant change from 2007, when 56% said the war has been worth fighting, and 41% said the opposite.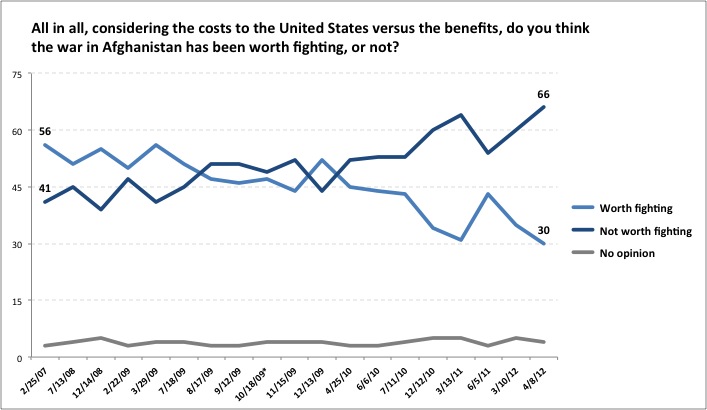 The downward trend is especially interesting because war costs have actually started to decrease. U.S. casualties, on the rise since 2005, dropped 18% over the last year. The Department of Defense request for next year's war costs, $88.5 billion, is a 26% decrease from last year.
Still, we are spending too much in Afghanistan, and getting too little for it. The American public knows this. After spending over half a trillion dollars to win hearts and minds in Afghanistan, 62% of Americans say most Afghans oppose what the U.S. is trying to do in Afghanistan.

Affiliations: