The GOP Candidates on the Afghanistan War: "I can't, …. I can't, sorry. Oops."
Mary Kaszynski
Afghanistan Study Group Blogger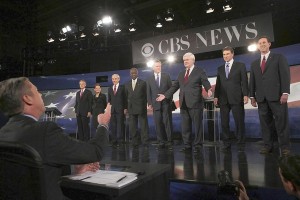 Ninety-seven thousand (97,000) US troops are currently stationed in Afghanistan, but you might never have known that from
Saturday's debate
. The Republican presidential candidates were eager to talk Iran and Pakistan, but generally fumbled their way through the few questions presented to them on Afghanistan. Here's a breakdown of what they said – and what they should have said.
Rick Perry: Perry's Afghanistan strategy seems to be to give as few strategic details as possible. Asserting vaguely that "The mission must be completed there," Perry went on to say that "The idea that we will have wasted our treasure and the lives of young Americans to not secure Afghanistan is not appropriate." If it were up to Perry, it seems that much more blood and treasure will be spent for the nebulous goal of securing Afghanistan.
Perry also ridiculed the idea of a drawdown timeline as "irresponsible". Perry isn't alone in this belief, and it's not without strategic merit. But those who oppose a timeline are forgetting two things. First, contrary to what Perry says, the US is not "in conflict with" Afghanistan – Afghanistan is our ally in the fight against terrorism. It may seem like a technicality, but it's important. Treating Afghanistan like an ally and partner surely means letting them in on our withdrawal plans. Secondly, the American people are paying for this war, with their lives and their taxes. Policymakers should be accountable to the public for their Afghanistan strategy, and that includes a drawdown timeline.
According to a recent CBS poll, 53% of Americans support a drawdown. Perry would do well to listen to the public.
Rick Santorum: Santorum certainly has a vision for victory in Afgahnistan: "The Taliban is a neutered force. They are no longer a security threat Afghan people, to our country. That would be victory." Whether that vision is achievable at a viable cost is another question.
With Afghanistan out of the way, Santorum pivoted rather abruptly to "the bigger issue." "This is the most important national security issue that we're gonna be dealing with here in this year," he said. "And that's the issue of Iran getting a nuclear weapon."
It's worth noting that both Perry and Santorum were clearly more interested in talking about Iran than Afghanistan. Perry used half of his allotted time for Afgahnistan wrapping up his comments on Iran. Moderator Scott Pelley gave Santorum a break, acknowledging that Santorum was more interested in Iran, and actually posed Iran and Afghanistan questions simultaneously. Perhaps he suspected Santorum was going to talk about Iran no matter what the question was.
Michelle Bachmann: Let's give Rep. Bachmann the benefit of the doubt and assume that when she referred to "the decision that by next September, our troops will be withdrawn" she meant the surge force will be withdrawn. That is the current administration's plan – return to pre-surge levels of 68,000 by summer 2012 and transition to local security forces by the end of 2014.
Rep. Bachmann then made an interesting leap. If the drawdown progresses as planned, "How do we expect any of our allies to continue to work to– with us?" It's unclear what exactly she means by this. Britain, France, and Germany have already announced plans to follow the US lead in withdrawing troops from Afghanistan.
Bachmann concluded by asking "How can we even begin to seek the peace with the Haqqani Network that are in the eastern regions?" Again, this is an inexplicable leap. The presence of US soldiers and Marines has done little to facilitate the peace process thus far and this seems unlikely to change.
Jon Huntsman: Once again, Huntsman has shown that he can he articulate a clear stance on Afghanistan, he will stick to that position (Perry should be taking notes).
Huntsman laid out the mission:
"I say this nation has achieved its key objectives in Afghanistan. We've had free elections in 2004. We've uprooted the Taliban. We've dismantled Al Qaeda. We have killed Osama bin Laden."
He showed that he understands current priorities:
"I say this nation's future is not Afghanistan. This nation's future is not Iraq. This nation's future is how prepared we are to meet the 21st Century competitive challenges. That's economic and that's education. And that's gonna play out over the Asia-Pacific region. And we're either prepared for that reality or we're not. I don't want to be nation building in Afghanistan when this nation so desperately needs to be built."

And he even outlined defense requirements:

"We still have work to do. We don't need 100,000 troops nation building, many of whom can't cross the wire. I think we need a component that gathers tactical intelligence. We need enhanced special forces, response capability for rapid response. And we need some ongoing commitment to train the local Afghan National Army. That's not 100,000 troops. That's well south of that. We are fighting an asymmetric threat, a counterterror threat. Not only there, but in Waziristan and every other corner of the world. And we need to prepare for that as a reality of our 21st Century foreign policy."
Mitt Romney:
After floundering on Afghanistan policy early in his campaign, Romney seems to have come up with an answer he's happy with: "Our surge troops should have been withdrawn by December of next year, not by December. And the timetable, by the end of 2014, is the right timetable for us to be completely withdrawn from Afghanistan, other than a small footprint of support forces."
It's hard not to see this answer as trying to appeal to a broad base. On the one hand, by critiquing the timeline for surge troops, he differentiates his position from the administration, and appeals to traditional hawks. But by sticking to the 2014 date, he can appeal to the fiscally minded, and the ever growing segment of the public that wants a drawdown.
All in all, not a bad answer – but not a great answer either.
Newt Gingrich: After the vagaries and equivocations of the other candidates, the former speaker of the House was refreshingly straightforward. "I think this is so much bigger and deeper a problem than we've talked about as a country that we– we don't have a clue how hard this is gonna be," Gingrich said. He was referring to the strategic complexities of fighting an insurgency in Afghanistan and a shadow war in Pakistan, but his point applies to Afghanistan policy as a whole. How hard will it be to "secure Afghanistan"? Will it take another ten years and a trillion dollars? Anyone who wants to stay in Afghanistan should consider these questions carefully.
Herman Cain: Cain's contribution to the discussion of Afghanistan policy was limited to noting how complicated it is. "There is a lot of clarity missing..in this whole region," he said. Asked whether he would send US forces into Pakistan "to clear out those safe havens of the enemy,"
Cain replied, "That is a decision that I would make after consulting with the commanders on the ground, our intelligence sources, after having discussions with Pakistan, discussions with Afghanistan. And here's why. We pointed out earlier that it is unclear as to where we stand with Pakistan. It is unclear where we stand with Afghanistan." A diplomatic answer, perhaps, but one would like a presidential candidate to have a greater command of the details.
Cain finished with a valid point: "Victory is not clearly defined." But you have to wonder if he would be able to follow through on his promise to "make sure that the mission is clear, and the definition of victory's clear." He certainly wasn't able to articulate a clear mission in the debate.
Overall, it was a disappointing showing from the GOP candidates. When they weren't fuzzy on the details, they were dismissive. The 100,000 US troops in Afghanistan probably would not agree with Cain's assertion that Afghanistan is less important than Iran or Pakistan. They, and all Americans, deserve better answers.

Affiliations: