Beyond boots on the ground – A cost-effective approach to US foreign policy
Mary Kaszynski
Afghanistan Study Group Blogger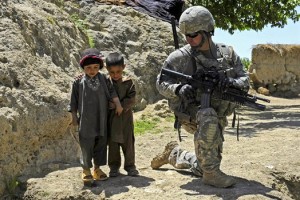 In her recent Foreign Policy op-ed on forward deployed diplomacy in the Asia Pacific, Secretary of State Hillary Clinton wrote, "With Iraq and Afghanistan still in transition and serious economic challenges in our own country, there are those on the American political scene who are calling for us not to reposition, but to come home. They seek a downsizing of our foreign engagement in favor of our pressing domestic priorities."
Sec. Clinton went on to argue for a comprehensive foreign policy that employs a wide range of diplomatic tools; she did not explicitly equate the Afghanistan drawdown with downsized engagement. However, others have made that claim, calling the drawdown "neo-isolationism" and equating "leaving Afghanistan" with "abandoning Afghanistan."
This argument overlooks the nuances of a balanced foreign policy – a policy that relies on more than just military strength. As Admiral Mike Mullen, former JCS Chair, told the Senate Armed Services Committee, "American presence and interest and commitment are not defined by boots on the ground, but rather by persistent, open and mutually beneficial engagement." Bringing the troops home will not mark the end of the US commitment to Afghanistan, but a new approach that will be not only more effective but also more cost-effective.
The violence of the past several weeks, particularly the assassination of former Afghan president Burhanuddin Rabbani and the collapse of the peace negotiations, have highlighted the multifaceted nature of Afghanistan's troubles: poor governance, faltering economy, not to mention ongoing tensions with Pakistan. US soldiers and Marines cannot provide solutions to these problems – they are not trained to do so, they shouldn't be asked to try.
Developing a more nuanced strategy that includes fostering economic development and regional diplomacy will be not only a more effective approach, but also far less costly. The Special Inspector General for Afghanistan Reconstruction estimates that the cost to deploy one civilian is about $570,000, compared to $697,000 for a soldier. According to a recent report from the Senate Committee on Foreign Relations, the State Department will spend $25-$30 billion in Iraq over the next five years. That's more than twice what the Department of Defense spent in the first year alone, according to CRS.
We should be spending smarter, not more. Bring the troops home, and revise our approach to make the most of our many foreign policy tools.Our economy will be the better for it, and our soldiers will thank us.

Affiliations: